The Vice-Chancellor, Kingsley Ozumba Mbadiwe University Ideato, Professor I. N. S. Dozie has extolled members of the Organisation for Women in Science for the Developing World (OWSD) for finding it worthy to inaugurate their local chapter in the university, marking the first of its kind since he assumed office as Vice-Chancellor.

While receiving the Leadership of the Organisation on April 7, 2022, who were on a courtesy visit to his office, the Vice-Chancellor said women play a very important role in society. He made reference to Margaret Thatcher's quote; "If you want something said, you ask a man. If you want something done, you ask a woman". VC said as long as there are lots of cultural differences and inequalities hindering women from attaining full potential, there is need to work collectively as Government on one hand and as stakeholders on the other hand for women to achieve their full potential, especially in the areas of science, technology, engineering, and mathematics. KOMU Chief Executive added that KO Mbadiwe University being gender-sensitive in its policy appointed women into key positions like; University Librarian, Dean of the Faculty of Arts, Acting Director General Studies, Admissions Officer, Student Affairs officer, and other important positions. The Vice-Chancellor appealed to his visitors to help in projecting the good image of the University and also informed them that the University Admission is currently ongoing.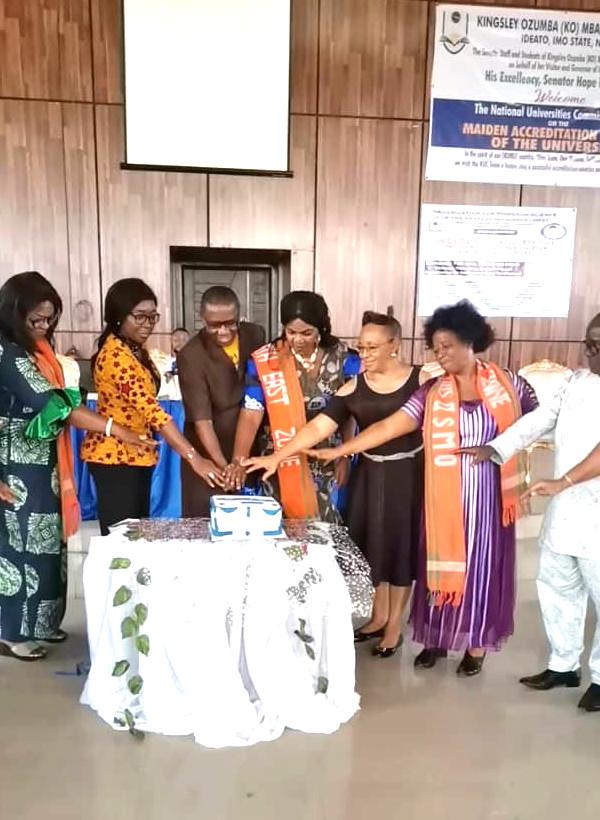 The leader of OWSD delegation, Dr. Nkeiru Kamalu earlier said they were at the Vice-Chancellor's office to inform him of the inauguration of the OWSD, KOMU Chapter and to thank him for his support to the Organisation. At the Senate Chambers where the ceremony took place thereafter, the Vice-Chancellor was represented by the Deputy Vice-Chancellor, Professor Aloy Onyeka who was also the Chairman of the occasion.
The Chief Guest of Honour, Dr. Mrs C. P Dozie, wife of the Vice-Chancellor and Acting Director of the Directorate of General Studies read out the VC's Address. The high point of the Occasion was the decoration of Vice-Chancellor as SCIENCE AMBASSADOR by ORGANISATION FOR WOMEN IN SCIENCE FOR DEVELOPING WORLD, OWSD. The Award, which was received by Dr. C. P Dozie on her husband's behalf was presented by OWSD National President, Professor Olanyika Ibiwumi Nwachukwu. Prof. Nwachukwu was represented by the South-East OWSD President, Professor Nkeiru Orji
Story by
Amb. Hippo Anyaehie Nwachukwu
Information and Public Relations Unit