The Vice Chancellor of Kingsley Ozumba Mbadiwe University Ideato, Prof I.N.S Dozie, paid a courtesy visit to the Archbishop of the Owerri Catholic Diocese, His Grace, Most Rev Lucius Ugorji on Tuesday, October 25, 2022. The Vice-Chancellor who was accompanied by his lovely wife Dr. Chinomso Dozie, Principal Officers, and some staff of KOMU met with the Archbishop at the Arch Diocesan Secretariat, Assumpta Cathedral Owerri.
During interactions, the Vice Chancellor congratulated the archbishop on his elevation as the Chief Shepard of the Owerri Ecclesiastical Province. He presented the archbishop with the vision and mission of his administration. He also highlighted some of the achievements of his administration which include, the successful completion of the 2021/2022 academic session without interruption, accreditation of programmes, graduation of the first set of students (i.e. pioneers), digitalization of activities in the University for e-teaching and learning; e-administration including timely processing of results and timely production of transcripts etc, expansion of academic programmes, etc. The Vice Chancellor promised that his team is committed to changing the existing narrative and offer students a new experience in education and mentorship.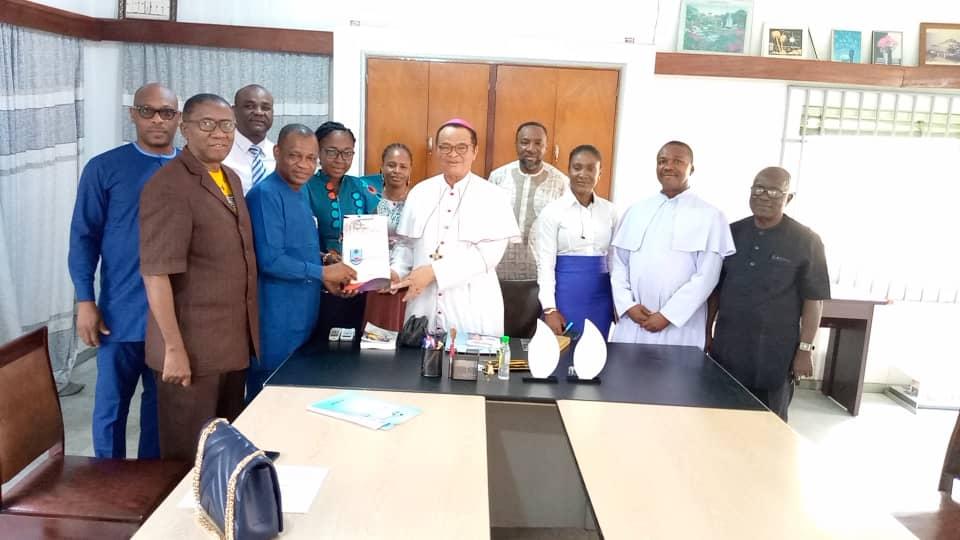 In addition, he highlighted some challenges experienced by his administration which include perception of insecurity, funding, poor enrolment of prospective students etc. He called on the Church to partner with the University, particularly in the area of publicity/sensitization of the public about the university.
In his reply, the archbishop welcomed the Vice Chancellor and his entourage. He extolled the administrative qualities of the Vice Chancellor and commended him for steering the ship of the institution in the right direction. He also pledged to support the University in the area of sensitization and urged the Vice Chancellor not to relent in his quest to develop the University to achieve the mandate of the establishment.
The high point of the meeting was the presentation of some university publications and souvenirs to the archbishop. The much admired and respected cleric also blessed the Vice Chancellor and his entourage and prayed for the success of his administration.
Ekene Bob-Ekechukwu Esq.
Public Relations Officer
Kingsley Ozumba Mbadiwe University, Ideato.